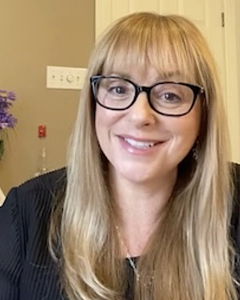 Over 20 years ago, after finishing university degrees in both Psychology and Social Work, I became a practicing social worker. I had high-stress jobs in residential treatment centers and homeless shelters. I loved my jobs, but I really needed to start taking better care of myself. I wondered how I would manage my wellbeing, given the pace and stressful demands of my chosen profession. I was working from an empty tank, and I was hanging on by my fingernails. I was surviving, not thriving, and wanted more. I decided that my life needed to become more health-focused.
While most people around me were counting points and watching the calorie burn on their exercise equipment, I got a blender and started making fruit and veggie smoothies. I made breakfast a priority, and I started eating instead of restricting. I focused on eating small amounts of fat and protein at every meal. As part of my new self-care routine, I started running, going to yoga, and reading about nutrition.
"I started to understand what authentic energy felt like in my body. It was different than the kind of energy you get from coffee and sugar. Soon I noticed that not only was I feeling better physically, but my mood and ability to manage stress was also increasing. The pressure in my job and life wasn't decreasing. If anything, it was growing, but I was building a stronger capacity to deal with it! I now know that this was the beginning of my restorative self-care plan."
I started to talk to people about how I was feeling. I was so excited to share this information! I began to share this message with both my clients and co-workers. At this time, I started experimenting with the food and mood connection on a deeper level. Even with degrees in Psychology, Biology and Social Work, I had not learned the science behind the food and mood connection, and I wanted to learn more. I continued to read nutrition material, but there was so much contradiction in the material that I eventually had more questions than answers. What nutrition plan was best for me? Should I be a vegetarian? How was I going to have enough energy to run? How was I going to keep my blood sugar balanced so I could be the best Social Worker I could be?
I made the decision that I wanted to return to school to study holistic nutrition. Finally, I was learning about how food impacts our physical and mental health on a cellular level. Once I started to learn how nutrition plays a role in our mental health, I was hooked. I finally found the perfect knowledge combination that I had been looking for!
As a social worker, I was always talking about the physical and mental health connection, but what I was learning was blowing my mind! What do you mean you can impact mental health and mood in a particular way with nutrition? Why hadn't someone told me that before? Why are counsellors and social workers not talking about this with their clients? I was on a roll! I loved the topic of nutrition and mental health so much, that I made it the focus of my masters' thesis.
Then I decided to take the plunge and start my private holistic counselling practice! My practice focuses on helping people who are living with mental health concerns learn how to live their healthiest life. I help them understand how to incorporate holistic concepts like nutrition, exercise, sleep, and stress reduction into their mental health recovery plans.
One of the best places to start a mental health recovery journey is to heal our bodies. It is with this healing that people get better results with their talking therapy. I teach people how to take advantage of our strong brain-body connection to decrease their mental health symptoms.
During 2016, I upgraded my Cognitive Behavioural Counselling skills with the Beck Institute. Also, that year, I upgraded my Cognitive Behavioural Counselling Skills For Obsessive Compulsive Disorder at the Massachusetts General Hospital Psychiatry Academy.
In February of 2017, I started my Self-Reg certification process at the Merhet Center in Ontario. This training was an eight-month training process that provided me with a Level 1 Self –Reg Certification. Currently, I am only 1 of 3 people to have this certification in Newfoundland and Labrador.
In 2018, I started my training and personal journey with Acceptance and Commitment Therapy (ACT). Now, these concepts are forefront and weaved into all of my counselling sessions. Believe me, when I say this is powerful stuff!
"I knew that I could take all of my years of experience, knowledge, and passion and put it into something really special that could help people live better with their mental health concerns."
Fun Facts:
I have an identical twin sister.
I have an adolescent stepdaughter who teaches me something new each day.
I have two amazing little nieces.
I was a competitive gymnast for most of my childhood and adolescence.
I am a registered Social Worker.
I am a graduate of Memorial University in Newfoundland and Labrador.
I lived in Nova Scotia for several years. I love that province.
I come from a large family of very powerful strong-willed women.
I learned how to swim as an adult. I love that exercise.
I have 2 great brothers — one older and one younger.
I love to eat good food and cooking is one of my favourite pastimes.
My mother is a great cook and she taught me from a very early age – if you are hungry, get something to eat.
I have a vegetable garden and a greenhouse.
In the summer, I grow my salad greens in pots on my patio.
I have a Bachelor of Science in Psychology and Biology.
I am in love with my Vitamix. It excites me to keep trying new vegetable and fruit smoothies.
I have a Masters in Holistic Nutrition.
I came from a family that ate together and I am very grateful for that.
I used to be a runner. I might run again, but for now yoga, walking and swimming are my things.
I am one of only 2 Shanker Certificated Self-Reg practitioners in Newfoundland and Labrador.
I believe that yoga can transform lives.
I live in a small town in Newfoundland and Labrador called Portugal Cove-St. Philips with my super supportive man, stepdaughter and dog.
My personal Self –Reg Activities:
Walking my dog
Practicing yoga
Doing puzzles
Spending time with people that I love
Daily mindfulness activities
Cooking
Getting great sleep
Taking my supplements
Eating 3 meals and snacks each day
Official Bio
Laurie is a Registered Social Worker and Holistic Naturopathic Therapist. She holds a Science Degree in Psychology and Biology from Acadia University in NS, a Social Work Degree from Memorial University in NL, and a Masters in Holistic Nutrition from the Edison Institute of Nutrition in Ontario. She is a Shanker Certified Self-Reg™practitioner.
She is a mental health therapist, speaker, and educator on the subject of holistic wellness and its connection to mental and physical health. She is the creator of LauriePinhorn.com and one of the co-creators of www.empoweredparentservices.com
Her private practice focuses on individuals and families who live with mental health concerns. Her main counselling areas of focus are anxiety, developmental trauma recovery, depression, ADD, ADHD and autism. She also works with groups and corporations to design and deliver holistic wellness programs to optimize mental and physical health. Her programs and interventions are Cognitive Behavioural and Self-Reg therapy based. Her private practice currently offers a wide range of online learning opportunities related to Restorative Self- Care, Nutrition and Mental Health Recovery, and family interventions for children struggling with emotional regulation.
With a diverse background in clinical social work, advanced holistic nutrition, Self-Reg™, and physical fitness; Laurie's hybrid of expertise is very unique. With a background that includes over 20 years in social work and a Masters degree in Holistic Nutrition, she is well-equipped to educate and shift perspectives.
Laurie is a firm believer in using holistic approaches to help people live better with both physical and mental health concerns. Her personal and professional philosophy is that our mental health management should go way beyond just taking a pill.
Credentials:
Bachelor of Science in Psychology and Biology
Bachelor of Social Work
20 years Social Work practice experience
Masters in Holistic Nutrition- Specializing in nutritional support for improved mental health
Self-Reg Certificated practitioner
Is the creator of Laurie Pinhorn: Holistic Counselling Services
Is the co-creator of Empowered Parents
Small business owner