Self-Reg™ and Cognitive Behavioral Therapy (CBT) for Anxiety and Other Mood Regulation Concerns
Self-Reg™ was developed and studied by Dr. Steward Shanker. After years of research and implementation, Self-Reg™ has been making its way into the school systems and counselling relationships in North America. Self-Reg™ is helping individuals and families break out of their stress cycles and live healthier and happier lives. Now, we can see Self-Reg™ building momentum all over the world. We can now find Dr. Shanker's methods and concepts in Canada, United States, Germany, Netherlands, Poland, Czech Republic, United Kingdom and South Korea.
Where I'm from in Newfoundland and Labrador, we are far behind in the Self-Reg™ movement. So, here is the million dollar question, when do we need to start applying Self-Reg™ concepts? How do we know when we are or someone that we love is caught in a stress cycle? When we are concerned with:
High Anxiety
Heightened impulsivity
Difficulty ignoring distractions
Problems with mood (when we see most things negatively)
Erratic mood swings
Trouble listening
When people are so overwhelmed that they are not making sense
Are you or is someone that you love caught in a stress cycle? Learning Self-Reg™ skills can break you out of this. As a Social Worker & Naturopathic Therapist, I have seen first-hand how overlaying Self-Reg™ principals on other traditional talking therapies helps people to feel much better.
There are two good reasons why NOW it is time to get Self-Reg™ concepts into your mental health treatment plan.
1. It is a self-care tool for the parents, teachers, and counselors who are worried about unexpected behaviors in the people that they love and care for.
2. It improves your therapeutic outcomes! I see it all of the time; people make more long lasting-life improvements when they know how to Self-Reg™
Also, I believe in the power of Cognitive Behavioral Therapy (CBT) so much that I offer one-on-one CBT sessions for anyone who wants to use this talking therapy to get a better handle on their anxiety and build better health and wellness in their lives. But, here is the thing, when we combine Self-Reg™ with CBT amazing things start to happen!
What is CBT, anyway?
As a Social Worker who has been helping people make big changes in their lives for many years (gulp – over 20 years!), I have always been a fan of a particular type of counselling called Cognitive Behavioural Therapy, aka CBT. When we look at the research about what kinds of therapy work for anxiety and other mental health concerns, CBT almost always rises to the surface as a very successful treatment approach.
So, what is the cognition part of this work? Cognition is a fancy word that means thinking. More precisely: thinking about our thinking! Why focus on our thoughts? Because our thoughts become our actions and behaviors! They have so much power in our success or struggle for living a healthier lifestyle.
What is Cognitive Behavioural Therapy and how will it help me keep on track with my physical and mental health goals? Well, I'm going to break it down for you, but for now, here is the simplest answer: what you think about, you bring about. Our thoughts are powerful and they have a way of attracting either negative or positive energy, emotions and behaviours into our lives.
Often when we want to change our behaviour we say to ourselves:
"Stop doing that!"
"You told yourself that you were not going to overreact anymore, what is wrong with you?"
"Why can't you just stop doing that?"
"Why can't you get yourself off the couch and get out for a walk?"
A more helpful approach is to look at the negative thoughts that are supporting the behaviour that you want to change. Change the way you think and you will have much more success.
Here is a little diagram that explains how CBT works.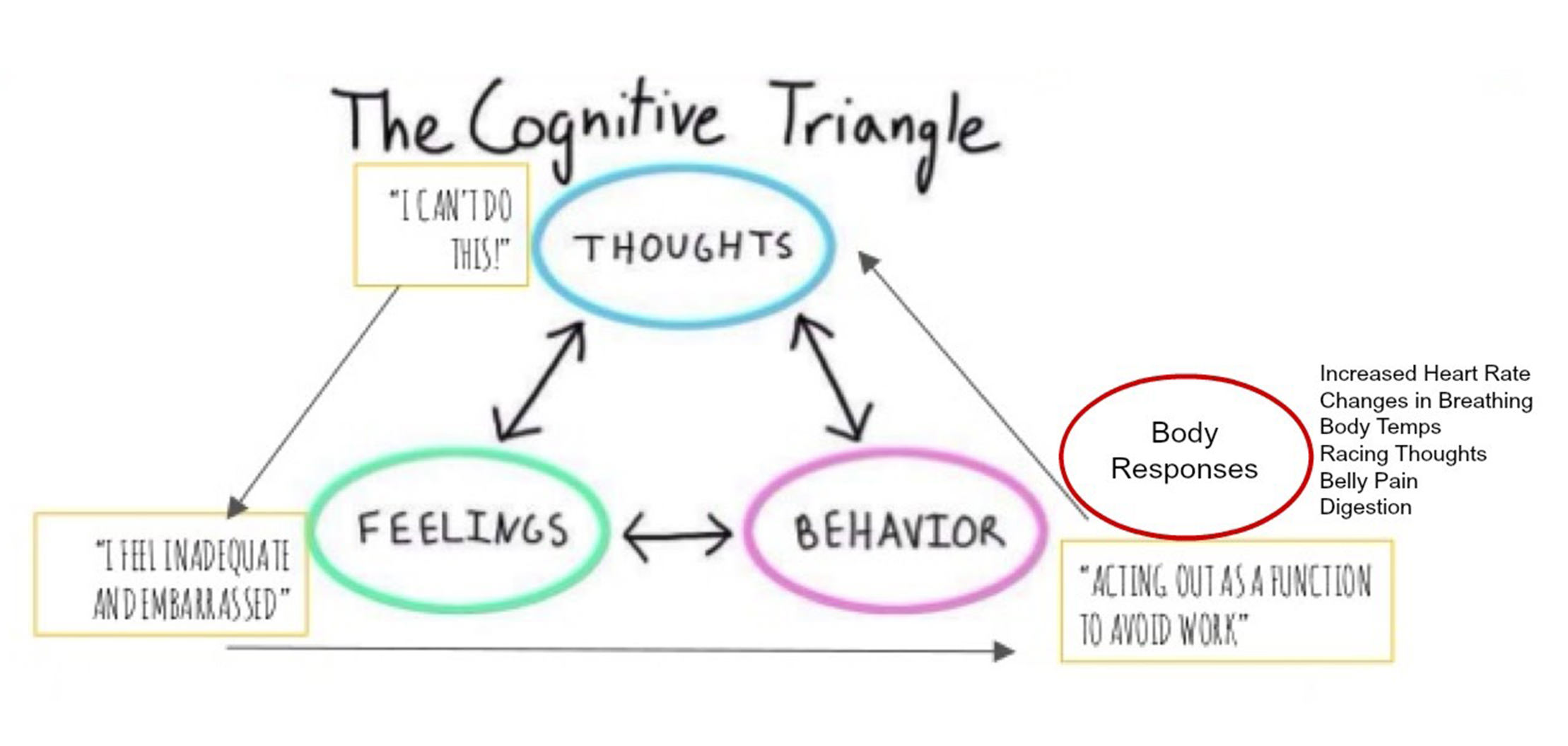 What benefits does CBT provide? I could provide you with a long list of boring psychological and behavioural benefits, but I won't. The bottom line is this - CBT is all about:
Working with your counsellor as a team member in your own treatment plan.
Practicing new ways of thinking that bring more calm and less overreaction in your life.
Identifying unhelpful thoughts and learning how to restructure them into more helpful positive powerful thoughts.
Learn how to not believe every thought you have in your head! Just because you have a thought doesn't make it true!
Learn new skills to help you manage your anxiety
Slowly growing into your own counsellor because you will learn to have these tools in your back pocket. Then you have the tools accessible to you no matter where you are in the world. How cool is that?
Providing a structured method of working with a counsellor that will also involve some homework activities.
When you get good at your own CBT, you can take your own learning about yourself and your thoughts, and understand how to overlay that skill on any real life situation. That all works out to better coping and general life management.
We know that CBT can provide benefits with:
High Anxiety
Heightened impulsivity
Difficulty ignoring distractions
Problems with mood (when we see most things negatively)
Erratic mood swings
Trouble listening
When people regularly getting overwhelmed
Have trouble falling asleep
Trouble staying asleep
More irritable – small things tips coping
Hard to stay focused
Trouble remembering
Hard to solve simple problems
Low energy
Easy things are now hard
Powerful cravings
Intrusive thoughts
Constant worries
Decrease in pleasure
Emotional jags
According to The Mayo Clinic, CBT is a common type of talk therapy (psychotherapy). You work with a mental health counsellor (Social Worker, Psychotherapist, or Therapist) in a structured way, attending a limited number of sessions. CBT helps you become aware of inaccurate or negative thinking so you can view challenging situations more clearly and respond to them in a more effective way.
In the psychology world, we call this type of work therapy, but not everyone who benefits from CBT has a mental health condition. I honestly believe that everyone can benefit from getting better at working with his or her thoughts. CBT can be an effective tool to help anyone learn how to better manage stressful life situations, which is why all of my health and wellness programs are CBT based.
Are you ready to get started? Call me and we will book a time to talk.